Settle Family Cemetery
Rogers County, Oklahoma
NE 1/4 of NE 1/4, Section 36, Township 20N, Range 14E
Southwest corner of NS 407 and 76th St. N.
East of Owasso, Oklahoma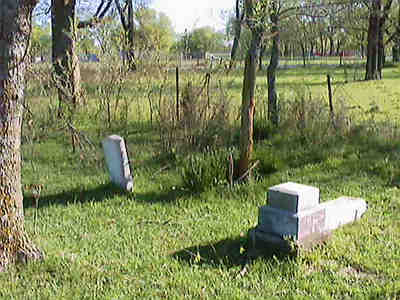 This small family cemetery, at this point, contains only two headstones plus one small, broken, unmarked stone that may be a footstone. There is a sunken area that indicates a possible third, unmarked grave just north of Eugene's. The fence is knocked down and cows are grazing among the stones--considerable degradation in the last few years.


Eugene

Settle

Oklahoma

PVT 117 Sanitary Train

42 DIV

September 21, 1924

Charles H.

SETTLE

Born

Feb. 4, 1846

Died

Dec. 22, 1892

Gone but not forgotten
Questions or comments?
Solve those genealogical puzzles with sources from Rootsbooks, an Amazon.com associate!
Entire contents Copyright 1999, Write in Style.